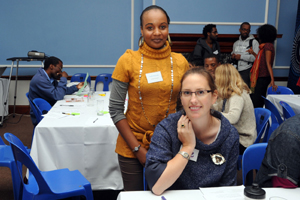 Helping hand: Faith Chirinda of the Postgraduate Student Association introduces herself to PhD student Kate MacIntyre, one of the students attending the Starting the PhD Journey workshop.
In all likelihood, doctoral researchers are going to make up the next generation of scholars at the university, so it's essential that they get the right preparation for this phase of their academic careers.
Welcome, then, to Starting the PhD Journey, an all-day workshop hosted by the Centre for Educational Development on 15 April where first-year PhD students were introduced to the resources at their avail. So, for example, they heard about the services and supprot offered by the Writing Centre, the Numeracy Centre, UCT Libraries, the Postgraduate Centre and Funding Office, and Student Development Services, among many others.
In turn, Associate Professor David Gammon of the Department of Chemistry talked them through the PhD Memorandum of Understanding, which outlines the critical relationship between student and supervisor. Other speakers included deputy vice-chancellor Professor Crain Soudien, who encouraged the students to get to grips with all facets of life in their departments.
Longstanding UCT students may be familiar with the campus, but for the likes of Johannesburg-born New Zealander Kate MacIntyre, based in the Department of Social Anthropology, the event was an eye-opener. She and others learnt, for example - as one PhD student there pointed out - that Vula is a thing, not a person.
"It was fantastic," MacIntyre says. "The best thing was getting to know other PhD students and seeing all their frightened little faces as well." Hopefully, by the end of the workshop, some of those fears will have been calmed.
---
This work is licensed under a Creative Commons Attribution-NoDerivatives 4.0 International License.
Please view the republishing articles page for more information.
---