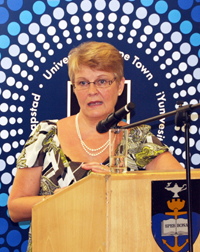 Going green: Maud Oloffson shared some thoughts on how Sweden is turning itself into a waste-free society, and how South Africa could follow suit.
Perhaps Swedish deputy prime minister Maud Oloffson didn't stick strictly to the title of her talk - Green Jobs and the Next Economy: Pipe Dream or a Reality? - but speaking at UCT on 15 March, she did share a few lessons on what Sweden had done right on the greening front, and gave a few words of advice to South Africa.
Oloffson, also the minister for Enterprise and Energy in Sweden, was delivering a public talk on building an eco-efficient economy, the occasion hosted by the Department of Public Law on behalf of UCT's Climate Change Governance Collaboration.
She listed some of Sweden's successes as it aims to overhaul its economy into one that's less dependent on fossil fuels or, as it is currently, on nuclear power (and hydroelectricity). So, for example, Sweden is converting vast amounts of waste into biofuels - an area in which it's setting the global pace - while also weaning itself off nuclear energy and investing generously in renewable-energy sources.
All this is driven by political will (it helps that the European Union is on the same green page, Oloffson said) and the free market.
But can South Africa match this greening revolution, audience members asked? And can the country generate clean fuel and jobs at the same time?
In South Africa, there are opportunities in turning waste into biofuels, as well as in solar-, wind- and even wave-power generation, just beckoning to be tapped, replied Oloffson. And a decent public transport system would also help.
"You have lots of low-hanging fruits."
---
This work is licensed under a Creative Commons Attribution-NoDerivatives 4.0 International License.
Please view the republishing articles page for more information.
---