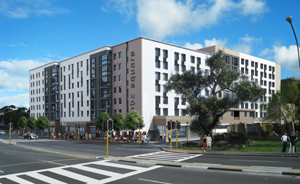 UCT will spend almost one billion Rands on capital projects over the next three years as it secures its place as the premier academic meeting place between South Africa, the rest of Africa and the world.
The roll-out of capital expenditure (capex) projects signals UCT's commitment to providing the necessary physical infrastructure and services to ensure that the vision for transformation - opening its doors to more students from a spectrum of backgrounds, and its expansion as an Afropolitan institution- is met.
UCT is making investments in new buildings for student accommodation and administration, the School of Economics, the Faculty of Engineering & the Built Environment, Information and Communication Technology Services (ICTS), the university archives, and renovations of various facilities across the campuses.
In total, UCT is spending more than R900 million on its capital expenditure projects, which will add huge value to the university's physical assets. More space will be provided on upper campus for academic activities - both teaching and research - as a result of moving a number of support services elsewhere. Significantly, too, the capex programme will have a positive impact on the surrounding neighbourhoods in Rondebosch, Mowbray and Observatory.
Government is funding about a third of the capex programme through an infrastructure development grant, with the remainder funded through UCT's multi-year budget process.
The single biggest investment in UCT history, R485 million, will be made at Obz Square, a 6 000 square metre block between Main Road and William Street. This will become home to 887 students in the university's newest and biggest residence.
Seven storeys high with shops on the ground floor, Obz Square will provide accommodation in single rooms, with the possibility of an additional 70 beds. Each room will have its own en suite shower and washbasin. Facilities will also include over 100 kitchens, each shared by eight students. There will be 200 parking bays.
Vice-chancellor Dr Max Price says that UCT's residence system "supports our undergraduate programmes to ensure the holistic development of outstanding graduates".
"Only about one third of our total student population stays in res. Some do stay off-campus or at home out of choice but many do so because of the shortage of places in res or because they cannot afford res.
"The Obz Square residence development is one of the ways in which UCT is addressing this difficulty."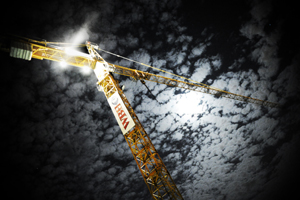 On middle campus, the School of Economics is getting new accommodation in a development that includes new offices for student administration, a total investment of R158 million.
These facilities, which are being developed adjacent to the existing Kramer Law Building, will be completed during the first semester of 2011.
Price says the new economics building recognises the need to provide appropriate and adequate physical infrastructure to maintain excellence in academic programmes and outputs.
"UCT's School of Economics has ranked first among economics departments at SA universities for the past five years and almost 20% of our total cohort of up to 24 000 students takes courses in economics. Our research units focus on the economics of labour markets, the environment, rural development, regional and industrial development, and financial markets, with a strong focus on poverty and inequality."
Another big investment will be made at the Snape Building for Engineering & the Built Environment, where additions costing R167 million are being built.
UCT is also a founder member and donor to the Groote Schuur Community Improvement District (GSCID) which aims to deal with neighbourhood crime, grime, transport and housing problems that are faced by students, residents and businesses in the area.
"While UCT brings great value to areas surrounding the university, we acknowledge that we also contribute to many of its challenges," says Price. "We now wish to engage with our neighbours. Therefore, the development of the GSCID provides an opportunity for meaningful dialogue and co-operation between us and the broader community."
The provision of new facilities for support services will also be a boon to existing resources especially on upper campus, where space for academic activities is at a premium.
Read the full Capital projects Monday Paper.
---
This work is licensed under a Creative Commons Attribution-NoDerivatives 4.0 International License.
Please view the republishing articles page for more information.
---