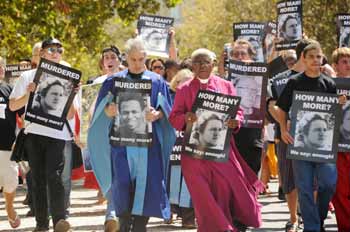 Taking the lead: Dr Max Price (in blue); chair of UCT Council, Archbishop Njongokulu Ndungane; and SRC president Sizwe Mpofu-Walsh (far right) at the front of the march at UCT this afternoon.
The memorial service hosted for Dominic 'Dom' Giddy at UCT today - drawing hundreds of staff and students - hit many emotive notes. On the one hand were the touching expressions of love, sorrow and even forgiveness from family and friends of the student killed in Observatory on 13 February. On the other, anger and frustration from UCT vice-chancellor, Dr Max Price, who did not mince his words, calling for action from both civil society and, more pointedly, from the state.
"Our lives are staler without his indiscriminate kindness and warmth," said friend Matt Alves. "Speechless," added father Patrick Giddy, "we stood on Muizenberg beach Saturday night last, family and friends, in a circle of love, in tribute to a prophet of gentleness."
In her message, sister Isabelle, added: "I'm sad that my brother was taken away from me, from us, so mercilessly."
But, as Price noted in his opening address, the occasion was one for mourning, for dealing with anger and loss, but also to protest the lack of political will to tackle crime head-on. No one has yet been arrested for Giddy's murder, or for that of student Benny Pakiso Moqobane and staff members Mike Larkin and Kevin Rochford.
"Justice has not been done, and has not seen to be done," said Price. "It is a system that has failed us, and those in authority in that system must hear our message - head of the investigations, you have failed us; councillor for the area, you have failed us; minister of safety and security, you have failed; president of the country, you have failed us."
If the country can muster its talent and resources to stage a soccer World Cup, how can it not bring criminals to book, Price asked? Should politicians show the will to curb crime, it will have the support of its citizens, but - in a stiff rebuke - Price reminded politicians that people will not remain quiet should the state not live up to its duties.
"If you are flippant with our lives, as you have been, we will object," he said. "We will show the middle finger at your convoy, and we will vote you out. We say, enough."
It was a sentiment mirrored by Sizwe Mpofu-Walsh, president of the Students' Representative Council, who also called on UCT to take action as a community.
"Quite frankly, students, we've come to the point in our society where unless we start coming up with solutions, unless we gather here in the numbers that we've gathered here today, unless we start telling politicians what to do and stop waiting for them to tell us what to do, unless we do that, students, then this problem is going to continue, and many more of us are going to be innocently murdered."
Following the memorial service, staff and students marched from the university's upper campus into Mowbray, Observatory and Rondebosch, donning T-shirts and bearing placards that echoed the day's message: "We say: Enough." and "How Many More?".
Some students said they were still reeling from the murder.
"I'm not sure what to do. Dom was in res with me. He was a part of us," said third-year student Tapiwa Nyabadza.
Others were willing to take the lead to change things.
"We have marched before," said one student, "and the more we do so, the bigger the difference we can make."
---
This work is licensed under a Creative Commons Attribution-NoDerivatives 4.0 International License.
Please view the republishing articles page for more information.
---