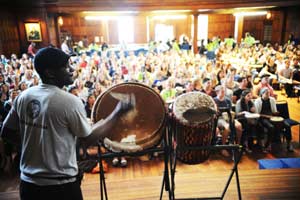 Local beat: Under the direction of performers from Drum Café, UCT's latest intake of international students learn the art of drumming.
If international students are looking - as many said they are - for a uniquely African experience at UCT, then the university's official welcome set just the right tone.
On 25 January, the about 600 semester-abroad students, mostly from the US, who are registering at UCT over the next couple of days enjoyed some fun African-style dancing and drumming lessons, courtesy of a UCT dancing student and the Drum Café, respectively. This has become the traditional welcome, as offered by the International Academic Programmes Office (IAPO), for UCT's twice-yearly influx of international students who spend about five months here.
But it's not all fun and games. Earlier in the day the students had attended more talks on more sober issues such as safety and security, sexual health, harassment and the like. That said, the students seemed keen to take full advantage of their stay in South Africa, whether it's what they'll learn in class, their trips around Cape Town or going clubbing with the locals.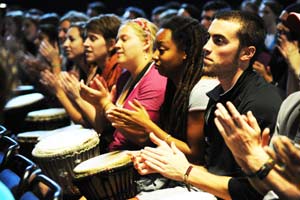 As American Jess Strickland's already done. (There aren't too many clubs around the University of Wisconsin, where she's based, she points out.) "I just want to immerse myself in a different culture and meet new people," Strickland says.
That sentiment is echoed by compatriot Greg Shaffer, who hails from Pennsylvania but studies at the University of Virginia. Instead of trekking to Europe, Shaffer was keen to see a different corner of the globe. "I wanted to explore a part of a world I don't really know very much about," he explains.
So keen was German student Sabine Kuenzel to study in South Africa that she found a scholarship on her own as her home university, the Free University of Berlin (aka the Freie Universität Berlin), is not a partner institution. She'd been to Cape Town as a tourist before, Kuenzel says, but longed to return as a student. "I wanted to take a closer look at African and South African issues," she says.
The students will spend the next few days signing up for their classes and settling into their new residences.
View video of students in drumming action.
---
This work is licensed under a Creative Commons Attribution-NoDerivatives 4.0 International License.
Please view the republishing articles page for more information.
---