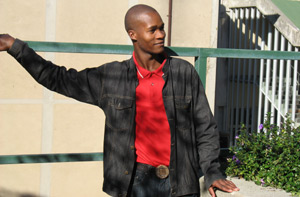 How a street kid turned opportunity into an electromechanical engineering degree
Michael Tladi began life on the wrong side of the tracks. Abandoned by his mother when he was five, he lived as a street kid in Pretoria for many years, eking out an existence and struggling merely to survive on a daily basis.
Today though, this fresh-faced 29-year-old is full of the proverbial joys of spring, standing as he does on the threshold of a degree in electro- mechanical engineering, despite the sort of odds that would have had lesser mortals running for cover.
If ever it could be said of someone that he is a self-made man, Tladi is surely a standout case in point.
From the age of five he lived on the hard streets of Pretoria, fending for himself in a hostile world. He turned to crime in order to survive and seemed destined more probably for the Numbers Gang at Pollsmoor than for life as an electromechanical engineer.
When it comes to homeless shelters, handouts, starvation and hardship, this young man has been there, done that– But that is all in the past. This week, Tladi will join fellow graduates from far more privileged backgrounds when he receives his hard-won degree at UCT. Few could deserve it more.
He came to UCT in 2001, having applied to various universities and colleges without success.
"I could not speak English when I arrived in Cape Town, but I was determined to overcome that obstacle," he recalls. He attributes his astonishing success in the face of extreme adversity to Dr Chris Parnell, who worked with a pastor called Ruben Mamatsinya, running shelters for the homeless in Pretoria.
"He moulded me into a better person, supporting and encouraging me in all I did," says Tladi. Sadly, Parnell died in 2007, and Tladi regards it as the greatest regret of his life that his former mentor did not live long enough to see him graduate. Tladi is currently working for the Department of Public Works and says his plans for the future include "not disappointing those people who believed in me".
And, when it comes to thanking those behind his success, he reads off a list that would be the envy of any Oscar winner: Mary Hilton, who is in charge of communication in the Faculty of Engineering & the Built Environment; Dr Howard Pearce, who helped him get psychological counselling in order to come to terms with his past; psychologist Rosanna Strauss; Adelaide Rooks, Jasmine Erasmus and Ethney Diedericks, who helped him get financial aid at UCT, to name a few.
Despite all the hardships he endured, Tladi says he always found the courage to move on. And always, there was something in his mind driving him towards the goal of a better education.
His is a classic tale of the triumph of the human spirit over suffering and hopelessness.
---
This work is licensed under a Creative Commons Attribution-NoDerivatives 4.0 International License.
Please view the republishing articles page for more information.
---