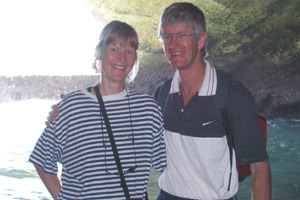 Professors keep it in the family
It will be a rare and emotional moment when Professor Rob Dyer receives his PhD during graduation week.
The person capping him is not only a highly distinguished academic herself, with a PhD, but none other than Dyer's wife, Silke Dyer, associate professor and head of UCT's Reproductive Medicine Unit.
Silke said she was honoured to be able to cap her husband, which was a privilege given to academic members of the faculty, with preference given to spouses.
Having graduated with her PhD in 2005, Silke said doing a PhD was a privilege in itself, but being able to support each other so closely was "truly special".
She added she was proud to be associated with a university such as UCT, which was without doubt the leading university on the African continent.
Meanwhile, Rob Dyer (who obtained his PhD in haemodynamic changes associated with spinal anesthesia for Caesarian sections) said his capping would be "a very special moment indeed".
Asked why he had not capped his wife, Rob explained: "We thought about it at the time, but decided against it. We did not think it would be appropriate for a spouse who did not have a PhD yet to cap his wife."
Rob, 57, said he was receiving his PhD relatively late in life, first having attended UCT as a student in 1971.
The couple has two sons, Martin, 15, and Oliver, 12. With parents like theirs, one can only assume their own academic futures are assured.
---
This work is licensed under a Creative Commons Attribution-NoDerivatives 4.0 International License.
Please view the republishing articles page for more information.
---