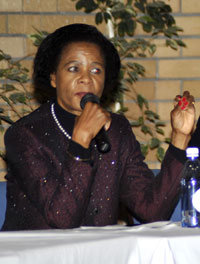 Former UCT vice-chancellor, Dr Mamphele Ramphele is leading a group of alumni that has established the Ukukhula Trust to help previously disadvantaged staff and students.
A group of alumni, led by former UCT vice-chancellor, Dr Mamphele Ramphele, has established a trust to help previously disadvantaged staff and students.
The Ukukhula (to grow) Trust was formed under the guidance of the UCT Foundation, and has started a long-term endowment fund to provide bursaries to students intending to pursue a tertiary education and academics seeking further developmental opportunities.
To qualify for participation in Broad-Based Black Economic Empowerment (BBEE) initiatives under the terms of the Act, it was necessary to create a legally-separate entity that would be fully compliant in terms of its purpose, composition, and modus operandi.
Ukukhula is a vehicle for firms that are interested in BBBEE and skills development. It seeks to provide a reputable organisation that fulfils all the requirements of a Broad-Based Black Economic Entity in terms of legislation, to enable previously disadvantaged South Africans to benefit from quality tertiary education.
Vice-Chancellor Dr Max Price has appealed to staff and students to join the initiative by suggesting potential opportunities for Ukukhula to collaborate with businesses - both large and small - that are seeking a BBBEE partner.
"Your support will be greatly appreciated, both by me and - especially - by the future generations of UCT students and staff who will benefit from support by Ukukhula," Price said.
For more information please view the Ukukhula Trust brochure, or contact Jim McNamara, executive director of the Development and Alumni Department on 021 650 4143, or by email.
---
This work is licensed under a Creative Commons Attribution-NoDerivatives 4.0 International License.
Please view the republishing articles page for more information.
---