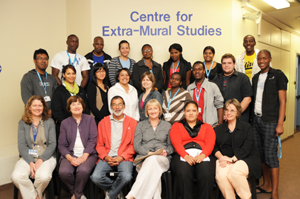 UCT's Summer School, directed by Medee Rall, will celebrate its 60th birthday next year.
Unique in Africa, UCT's Summer School has had a long and distinguished history. For six decades, as the university's premier public outreach event, it has offered courses and lectures ranging over arts and humanities, science and conservation, history, philosophy and contemporary studies, as well as practical art, languages and writing courses.
Planned and co-ordinated by the Centre for Extra-Mural Studies, it annually attracts approximately 3 000 students from all over the world.
In celebration of the event, which runs from 15 to 23 January, artist Gwen van Embden is creating Bits, Bites and Tweets, a commemorative artwork around a central pillar in the Leslie Social Sciences Building. This interactive installation engages with the theme of evolution as played out in the various adaptations of Galapagos finches, first noted by Darwin more than 175 years ago.
Students will be classified as members of a symbolic finch species according to their areas of study, and the appropriate symbolic finch will accompany their registration cards. The exhibition website has quick links and access to social networking tools such as Twitter.
Summer School's 60th anniversary will also be celebrated by two receptions. At the opening, on 15 January, the speaker will be Dr Stuart Saunders, former vice-chancellor, and at the second, on 22 January, the speaker will be vice-chancellor Dr Max Price. Two free lectures are offered on a first-come, first-served basis, one of these being by Dr Laurine Platzky, on the 2010 FIFA World Cup.
The co-ordination and smooth running of Summer School requires a great deal of planning and preparation to maintain its high reputation. Student assistants, all currently studying at UCT, are presently in training at the Centre. Summer School is a demanding and very 'real' work experience, and the skills and work ethic acquired by the students have made them highly employable on graduation, both within UCT and in the wider world.
(For general info, visit the Summer School website)
---
This work is licensed under a Creative Commons Attribution-NoDerivatives 4.0 International License.
Please view the republishing articles page for more information.
---