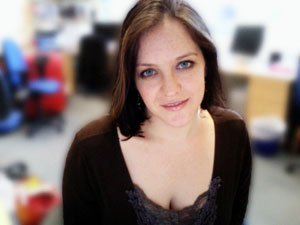 Renee Hlozek's work on dark energy has won her this year's prestigious S2A3 Medal from the South African Association for the Advancement of Science.
The medal, which comes with a R15 000 prize, is for original research at master's level, and is awarded annually by each South African university and university of technology to the most outstanding master's degree research student in a scientific discipline.
Hlozek (pictured) obtained her master's in astrophysics at UCT and is currently on a Rhodes scholarship, reading for her DPhil at the University of Oxford.
She is working on data from the Atacama Cosmology Telescope, a telescope in Chile, which measures small fluctuations in the Cosmic Microwave Radiation from the early Universe. These small fluctuations give information on what the Universe is made of, and how it evolves with time.
Her master's thesis was about challenges in the study of dark energy, the mysterious form of anti-gravity believed to be responsible for the acceleration of the Universe.
"It is called dark energy because, while evidence suggests that it makes up around 70% of the total energy density in the Universe, we don't know what it is. So we are in the dark, so to speak," Hlozek explained.
The topic excites her because there are so many unanswered questions in cosmology, and so much to learn.
"I am passionate about trying to unravel these mysteries."
About the medal Hlozek said: "I really enjoyed my master's and my time at UCT, and it is a real honour to receive recognition for this work. I worked on projects that interested and inspired me, and I was lucky to have a great supervisor in Professor Bruce Bassett and an excellent research group to work with and share ideas with. For example, working together as a team, I and two other students and Prof Bassett developed and released a statistical code package that has been downloaded over 1000 times internationally, and is used both for teaching and research purposes.
"That would not have been possible without group interaction and mentoring, and this medal reflects what a wonderful research model that is."
---
This work is licensed under a Creative Commons Attribution-NoDerivatives 4.0 International License.
Please view the republishing articles page for more information.
---