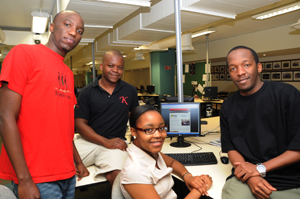 Making a difference: (From left) Students Gwamaka Mwalemba, Kenneth Mashingaidze, Beverly Maphutha and Louis Kinunda developed a website for Action of Elder Abuse South Africa, part of their community service.
Awareness of the abuse suffered by the elderly has received a leg-up after a group of UCT students developed a website for a Cape Town-based non-governmental organisation that deals with the problem.
Although statistics are sketchy, it has been reported that a significant number of crimes against the elderly, mainly by family members, are not reported to police.
But Action on Elder Abuse South Africa (AEASA) will soon be able to draw greater attention to the phenomena via the new website. It will also stand the organisation in good stead in its fundraising efforts.
This thanks to the work of Louis Kinunda, Beverly Maphutha, Kenneth Mashingaidze and Gwamaka Mwalemba, honours students in information systems.
The team undertook the project as part of the community service component of their studies.
They were put in touch with AEASA by Colin Smith, a senior lecturer in accounting, and met with the organisation early this year.
Smith, a social-worker-turned accountant, does financial management for AEASA as part of his outreach work, and says the NGO wanted the website to raise its profile and assist in attracting funding.
The students' project has provided a convenient way to meet this objective, Smith notes.
"Their business analysis has truly captured the very essence of the organisation and the webpage design encapsulated this perfectly."
For months the students juggled their demanding academic work and the hours it took putting the website together. This was quite challenging and time management was vital, they say.
In consultation with the staff of AEASA, the team did all the work on the project themselves, from designing web pages and categorising information, to researching the technical aspects of web development and how to publish the website.
The site, which will contain essential information about AEASA and raise awareness on elder abuse, is now complete and will be handed over to the organisation soon.
The team said they have learnt a lot over the months. The project provided them with first-hand experience in web development, exposed them to elder abuse, and highlighted the importance of contributing to community development.
"We have always been taught how to apply information systems in business, but this has taught us that we can also use it to help uplift communities," says Mwalemba.
Kinunda added that this has motivated the team to prioritise social development in their career paths, "and we will certainly think of doing the same back in our communities. You don't have to do a lot".
Mashingaidze suggested that community service should be a university-wide feature.
The group were presented with certificates in appreciation of their work.
---
This work is licensed under a Creative Commons Attribution-NoDerivatives 4.0 International License.
Please view the republishing articles page for more information.
---