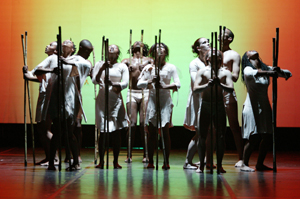 To mark their 75th anniversary, UCT's School of Dance has launched the 75 Photos exhibition, among several other events, chronicling the school's history since its pre-war inception in 1934 - and its foundations in classical ballet.
The exhibition is part of the broader archival project, the UCT Dance Archive Project, supported by the Gordon Institute of the Performing Arts (GIPCA) at UCT.
Established by Dulcie Howes, the school is one of the country's most prestigious tertiary institutions dedicated to the study of dance. It has the distinction of being one of the first dance institutes in the world to be attached to a tertiary institution.
School director Gerard Samuel said that the strength of the dance archive project lies in the fact that many of the true dance historians are still alive and able to offer factual accounts of events.
"These and other fascinating personalities and forces that may have been at play must be reviewed and researched. For example, the need to record the entry and trajectory of contemporary dance and African dance through this lens offers virgin fields of study."
The original photos will be placed in the Manuscripts and Archives Department on upper campus.
"We plan to develop a highly organised and readily accessible catalogue and system for the study of dance using the many artefacts (including photographs, programmes and posters) that were informally collected at the School of Dance. We hope to facilitate student access to the UCT Dance Archive Project through web links."
(The exhibition opens at 18h30 on 10 November, in the Baxter Theatre foyer. The event will also mark the launch of their commemorative book, on sale at a special discount price of R100 at the opening only.)
---
This work is licensed under a Creative Commons Attribution-NoDerivatives 4.0 International License.
Please view the republishing articles page for more information.
---