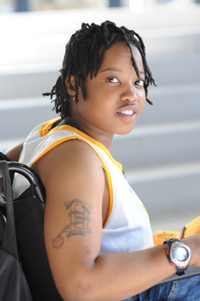 Thandekile Seatlholo gets hurt a lot. She falls out of her wheelchair even more. But don't worry, it's mostly her own fault.
The thing is, Seatlholo, 19, will be the first to confess to an irrepressibly aggressive streak in her wheelchair basketball game.
It's a feature of her playing that's spooked rivals, annoyed teammates and - one foul and one yellow card too far - caused coaches no end of vexation. But that hot-blooded attitude has also earned her a spot in the South African women's side that finished a very-impressive third at the Americas Women's qualification tournament in Guatemala in June.
Wheelchair basketball started as therapy for the Soweto-born Seatlholo after a disabling car accident in 2000. But her interest and career took off after she moved to Hope School in Johannesburg, where the game became an everyday thing.
Soon she was playing for the untouchable Central Gauteng side and then for a string of maybe-not-so-invincible conference teams. But she found her temperamental home with the SA side this year, where her on-court passion is encouraged.
"My captain loves it," says Seatlholo. ("If you don't have a bruise after the game, it means you haven't played," says captain Fahiema Beckles.)
The team is still in its infancy, but with a training camp in Belgium, the Guatemala competition and a few other events in the pipeline, Seatlholo gets to feed another obsession - travelling.
On-court that may be frowned on, but not so off it. "I just want to see the world," she says.
---
This work is licensed under a Creative Commons Attribution-NoDerivatives 4.0 International License.
Please view the republishing articles page for more information.
---