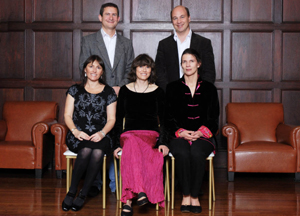 Among those at the law reunion were the following members of the class of 1989, (back) Clive Rubin and Shannon Hoctor, and (front) Renee Dente, Marlese von Broembsen and Nicola Caine.
Graduates from 1979, 1984 and 1989 were back on campus recently for the Faculty of Law's annual Reunion Weekend, a tradition that was started in 2002 by former-dean, Professor Hugh Corder.
Some 600 - out of a total of 3 500 law alumni - have attended these weekends to date. With meetings in London, New York, Toronto, Perth, Sydney, Hamburg, Nairobi, Kampala and Melbourne, as well as in South Africa, the proportion of law graduates who have met with their alma mater in the past few years is close to 30%, reported alumni co-ordinator Pauline Alexander.
This year, the biggest contingent was from the class of 1979, with graduates flying in from Atlanta, Johannesburg, London, Melbourne, New York and Wellington.
Speaking at the Saturday dinner, the Dean, Professor PJ Schwikkard, said that the reunion offered an opportunity for alumni to reconnect with UCT and fellow alumni.
There was much laughter when Schwikkard read aloud an email from 1979 graduate Gair Cameron of Zimbabwe, who was keen to catch up with - according to a Judge Dennis Davis verdict, apparently - "the worst final-year LLB class". Davis, guest speaker at the dinner, duly denied ever issuing that particular verdict.
"In fact, I can say unequivocally that teaching is the part of my career that gives me the most satisfaction," he quipped.
Other speakers at the reunion included the LAWCO student team, and Emeritus Professor Solly Leeman, the much-revered teacher of criminal law from 1963 to 2000.
Ceris Field of the class of 1984 said that being back on campus took him back to those days "when we studied hard, played hard and forged everlasting friendships".
---
This work is licensed under a Creative Commons Attribution-NoDerivatives 4.0 International License.
Please view the republishing articles page for more information.
---