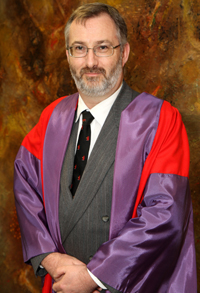 There were signs and omens aplenty that the Roman emperor Augustus - the first - was destined for not just great things, but also divinity. According to African biographer Suetonius, anyway, said Professor David Wardle in his inaugural lecture, The Roman Emperor as God and Man: An African biographer's perspective.
In his lecture, delivered on 14 October, Wardle tackled his theme in three parts: - Suetonius, the author of The Life of Augustus (if not black, than at least African by virtue of his family's association with a spot in modern-day Algiers); the legendary and bar-setting Augustus; and the phenomenon he referred to as the 'ruler cult' in the Roman Empire.
While this ruler cult has much in common with the personality cults of more recent times - Hitler in Germany, Stalin in Russia and the Kims in North Korea - it also stands apart from these in one marked regard, said Wardle.
"What is striking about the ancient manifestation is its overwhelmingly religious nature, ie its expression in forms of worship that were given to the gods."
(Listen to the full lecture)
---
This work is licensed under a Creative Commons Attribution-NoDerivatives 4.0 International License.
Please view the republishing articles page for more information.
---