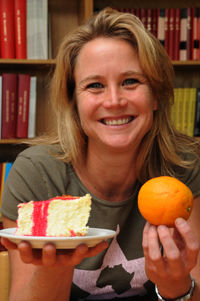 Dr Julia Goedecke, specialist scientist at the Medical Research Council/UCT Research Unit for Exercise Science and Sports Medicine, is looking for volunteers for her study on the mechanisms that underlie insulin resistance in South African women. She hopes to understand why certain women may be at higher risk for developing type 2 diabetes than others.
You can participate in the trial if you fulfil all the criteria listed below:
Black isiXhosa-speaking South African woman or white South African woman
Professional (teacher, clerk, nurse, admin assistant, etc.)
30-45 years of age
Obese: Body mass index (BMI) >30kg/m2. (BMI= weight (kg)/[height (m) x height(m)])
Have normal monthly menstrual cycle
No known disease and not taking any medication
Not currently pregnant or breastfeeding
No previous diagnosis of hepatitis or liver damage
Drink less than 10 alcoholic drinks per week
Body weight hasn't changed by more than 2kg in the past 3-6 months.
Before you are officially enrolled in the study, you will be required to undergo testing (about 30 minutes) to verify that you meet the inclusion criteria of the study.
Procedures and benefits:
You will be asked to complete five testing sessions to obtain the following health information, valued at approximately R2 500!
Body composition (body fat, muscle mass, bone density)
Dietary analysis
Physical activity
Blood pressure
Lipid profile liver function
Liver and muscle fat content
Risk for type 2 diabetes
In addition, you will receive compensation for your time and inconvenience (R1 300 on a pro rata basis), as well as receiving two months free membership at the Fitness Centre of the Sports Science Institute of South Africa in Newlands.
If you are interested in taking part in the study and would like additional information, please contact:
Hendriena Victor
Tel: 021 650 4563
Dr Julia Goedecke
Tel: 021 650 4573 / 082 8255 616
---
This work is licensed under a Creative Commons Attribution-NoDerivatives 4.0 International License.
Please view the republishing articles page for more information.
---