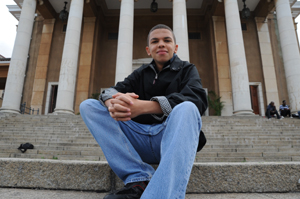 Sizwe Mpofu-Walsh.
The Students' Representative Council should represent the voice of young people in society, and should broaden its work beyond the university, says Sizwe Mpofu-Walsh, UCT's SRC President-elect.
Speaking after his 15-member team met for the first time, Mpofu-Walsh, a second-year student in economics, politics and philosophy, said dealing with internal matters was important, but student politics could do more than just focus on campus.
"We need to think about how we can contribute to addressing social and economic inequalities, the HIV/AIDS pandemic and other pressing issues in society," he said.
This vision was at the heart of Mpofu-Walsh's SRC campaign, as it was when the elected members met to allocate portfolios.
However, he added that these were his thoughts only. The new council members, who are set to take office on 1 November, are still to finalise their official, collective vision.
The Johannesburg-born Mpofu-Walsh said he hopes the new SRC leadership will build links with student leaders in other institutions, both in South Africa and on the rest of the continent.
Mpofu-Walsh contested the elections as an independent candidate, and hopes that his committee will unite the different constituencies of the SRC, with its strong Democratic Alliance Students Organisation and South African Student Congress representations.
Other issues he would like to see addressed include students ploughing back into the community, and the promotion of environmental awareness.
"We want to make UCT the symbol for a clean environment in South Africa," he explained, one week ahead of Green Week on campus.
Also high on his priority list is the inefficiency of the Jammie Shuttle Service on satellite campuses, as well as the academic and financial exclusion of students.
"We cannot have a situation where a student gets As in all subjects but is excluded because he can't meet financial requirements," he said.
What fuels his interest in politics?
His parents were activists from two diverse communities, factors that shaped his perspectives.
"I'm optimistic about human beings finding solutions to problems confronting them."
---
This work is licensed under a Creative Commons Attribution-NoDerivatives 4.0 International License.
Please view the republishing articles page for more information.
---