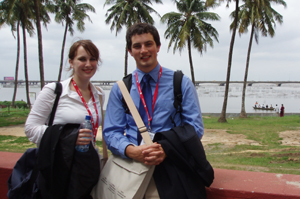 Winning Mooters: UCT's Moot team, including Tracy Hockly and Christopher Campbell, was judged the best English speaking team at the recent All Africa Human Rights Moot Competition in Lagos.
It was a coup for the law faculty when UCT's squad was judged the best English-speaking team at the 18th All African Human Rights Moot Competition, held at the University of Lagos, Nigeria, from 10 to 15 August. Competing against 49 other African universities, UCT's team comprised Amy Armstrong and Tracy Hockly as the two orallists, and Christopher Campbell as the advocate.
This isn't the first time UCT have shown their colours at the competition. In 2008, the university team was ranked third in the English-speaking category, and took the overall top spot in 2005.
"I am also very proud that UCT's written submission was rated the best overall out of 70 universities; and this was a first for us," said team coach Professor Danwood Chirwa of the Department of Public Law.
"I really enjoyed the opportunity to experience Lagos," said Hockly. "It's an extremely vibrant city, and absolutely massive, with a definite feeling of moving forward in terms of infrastructure. The competition itself was fairly tough, as law students have the tendency to be competitive to a fault. We were all impressed by the amount of work everyone had put in - especially as African human rights law isn't something that law students normally encounter at varsity."
As well as being named best English-speaking team in the preliminary rounds, the team was placed as runner-up in the multilingual final, and Armstrong was judged the second-best English orator.
The annual African Human Rights Moot Court Competition attracts faculties of law from across Africa to moot a case prepared around topical human rights issues confronting the continent. Now the largest gathering of law academics in Africa, the competition is aimed at giving budding African lawyers the opportunity to hone their advocacy skills and deepen their knowledge and understanding of human rights law.
---
This work is licensed under a Creative Commons Attribution-NoDerivatives 4.0 International License.
Please view the republishing articles page for more information.
---