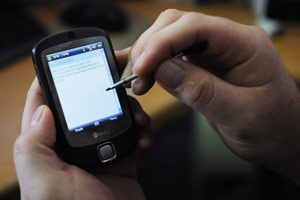 The UCT open-source service, Vula, has launched a new SMS facility, which allows site owners to communicate with students and users through their cellphones.
SMS notifications can now be used to send important reminders to groups of users, for example, to inform health sciences about changes in lecture schedules. The service can also be used to communicate with staff and non-UCT users, such as people who register for a conference held at the university.
"The Vula service takes advantage of the fact that UCT already has cellphone numbers for most students in the Peoplesoft system, which supplies information to Vula," explains Stephen Marquard of the Centre for Educational Technologies, which manages Vula.
"Lecturers don't have to collect or manage lists of cellphone numbers to keep in contact with students, and the numbers of individuals are private, as senders select recipients by name rather than by number."
Users can also opt-out of the service if they wish.
"The long-term success of the service will depend on it being used appropriately, so that SMS notifications are perceived as useful, rather than as an intrusion," adds Marquard.
Presently, the service only supports South African cellphone numbers, but international numbers are expected to be added shortly. Future plans for the new Vula service include allowing users to request information or submit questions and receive replies by SMS. This will be implemented for students who need information urgently but don't have internet access.
The SMS service operates on a cost-recovery model. UCT departments can pre-purchase SMS credits for use on Vula at R0.30 per message.
For more information, go to the Vula
This work is licensed under a Creative Commons Attribution-NoDerivatives 4.0 International License.

Please view the republishing articles page for more information.