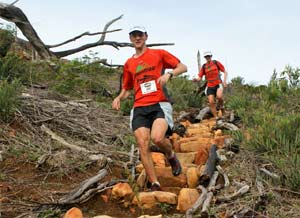 Puffer piece: William Robinson (front) on his way to breaking the Puffer record, and Dion Middelkoop (not competing) - Photograph by Trevor Ball.
Mathematics PhD researcher Will Robinson took first place in the Ultra Puffer Trail Run, smashing the previous record by 10 minutes.
The gruelling 80km run, which was held on 22 August, takes runners from Cape Point to Silvermine Dam, through the Tokai Forest to Constantia Nek, along Platteklip Gorge, down to the cable station, then down Kloof Nek and all the way to the finish at the Victoria and Alfred Waterfront.
The start-list included all the previous winners from 2004 to 2008, including Bruce Arnett, who had set the course record of seven hours and 24 minutes in 2000.
"At our previous meeting in May, Bruce had beaten me convincingly at the Addo 100, but I was optimistic about my chances against him over the shorter distance," said Robinson.
In this, the third Puffer win for Robinson, his speed was challenged by a slight stomach upset.
"It was not too serious, but it was definitely slowing me down, and I had no appetite for any energy gels. So I was pleased when we reached Vlakkenberg, where the route becomes too steep to run."
Robinson came in at seven hours, 13 minutes. In hot pursuit, Arnett took second place at seven hours and 53 minutes, followed by Marc du Rooy and Costa Dimopoulos.
"The most difficult thing about the race is waking up at 03h15 to get down to Cape Point in time for the start," Robinson quips.
But Robinson is not one to rest on his laurels.
"So I broke the record by 10 minutes, but I reckon a seven hour Puffer is possible. I might have to give it a go some time."
---
This work is licensed under a Creative Commons Attribution-NoDerivatives 4.0 International License.
Please view the republishing articles page for more information.
---