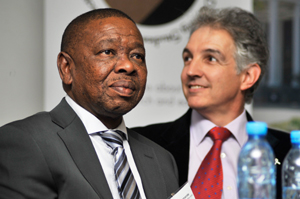 Meeting of minds: Dr Blade Nzimande and Dr Max Price, photographed at the Third Anti-Racism Colloquium in July.
Dr Blade Nzimande, Minister of Higher Education, and Vice-Chancellor Dr Max Price met in the Minister's office on 18 August.
"The purpose of the meeting was to establish more open communication channels between us," said Price. "We have met on various public occasions but it is the first time that the Minister and I have had a one-on-one meeting. We discussed the challenges we face in the higher education sector and talked particularly around issues of funding models and curriculum reform. I have invited the Minister to come and spend a morning with us here at UCT. He has accepted and we will soon set that date.
"The intention will be, on the one hand, to demonstrate some of our many areas of excellence and examples of best practice, which we believe could inform his thinking on national policies, and on the other, to expose him to some of the real challenges we face as an institution. Of course, the Minister is not a stranger to our campus. His daughter is currently studying at UCT and he will no doubt weigh up all we show him against his vicarious experience of UCT as a parent! (That is how I find out what's going on in the institution.)"
In a separate meeting, also on Tuesday, Price met with the Speaker and Deputy Speaker of Parliament, Max Sisulu and Nomaindia Mfeketho as well as the Chair and Deputy Chair of the National Council of Provinces MJ Mahlangu and Thandi Memela.
"The meeting was to explore the opportunities for enhancing UCT's engagement with parliamentarians and policy development. Government provides a large part of our income, and as a public institution with significant expertise in various areas we should attempt to expand our impact on society through supporting policy development through research in these areas, and by sharing our expertise with those tasked with good governance. It really is about ensuring that the resources at UCT are having the maximum possible impact."
---
This work is licensed under a Creative Commons Attribution-NoDerivatives 4.0 International License.
Please view the republishing articles page for more information.
---