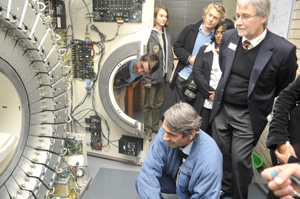 PET project: DVC Danie Visser (far right) was among those who attended the launch of UCT's new particle-tracking facility, PEPT Cape Town.
The world's second positron emission particle tracking facility, PEPT Cape Town - a first for SA - has opened at the iThemba LABS national cyclotron centre near Faure.
The facility was set up by Professor Andy Buffler and Dr Indresan Govender of UCT's Department of Physics. The decision to situate it at iThemba LABS was driven by the regular availability of radioisotopes produced by the Radionuclide Production Department.
The facility received a major leg-up last year when the world's most sensitive positron emission tomography (PET) scanner, the ECAD EXACT3D, was donated to UCT by Professor Jan Cilliers of Imperial College, London.
In April this year the camera was decommissioned at Hammersmith Hospital in London, where it had been used for PET research for over a decade.
The new laboratory at iThemba LABS is the world's second operational facility after the Positron Imaging Centre at the University of Birmingham. It will be available for multi-disciplinary research by local and international scientists. Current UCT PEPT projects include research in physics, engineering and medicine.
Seed funding for PEPT Cape Town was provided by the National Research Foundation, UCT (the Centre for Minerals Research, the Minerals to Metals Initiative and the UCT Equipment Committee), Imperial College in London, and the Centre for Sustainable Resource Processing in Australia.
In addition, Anglo Platinum and Xstrata are funding UCT-lead PEPT research at the Positron Imaging Centre at the University of Birmingham.
PEPT is based on the tracking of a single tracer particle which has been labelled with a radionuclide. This provides the basis for a technique for the characterisation and visualisation of particulate flow within aggressive industrial environments. These include tumbling mills, flotation cells and powder mixers.
PEPT is currently the only non-invasive technique capable of mapping the in-situ flow fields in robust industrial systems to the level of detail that is demanded for mechanistic modelling.
---
This work is licensed under a Creative Commons Attribution-NoDerivatives 4.0 International License.
Please view the republishing articles page for more information.
---