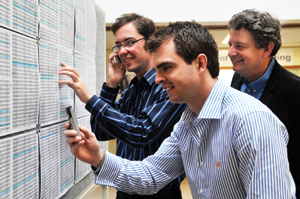 Good news: Jayson Coomer (left) and Ross Robertson (middle) check their results in the company of Department of Accounting head, Prof Mike Wormald. Coomer and Robertson are two of the four UCT candidates who passed Part One of the CA Qualifying Examination with honours.
South Africa's all-too-small pool of qualified chartered accountants is poised for a boost after the release of exam results in Johannesburg on 26 June. Of UCT's 225 candidates, 214 (95%) were successful, the highest pass rate achieved by any university in the 2009 exams. Significantly, UCT provided 38 successful black African candidates and 35 successful coloured candidates.
UCT also achieved the highest absolute number and pass rate of black African and coloured candidates of all the residential universities.
Alexa Joubert, who completed her Postgraduate Diploma in Accounting, was placed 10th in the examination, which she passed with honours. Jayson Coomer, Rendani Muthelo and Ross Robertson also passed with honours.
Results from Part One of the Qualifying Examination (QE1 - a critical milestone on the path to becoming a chartered accountant) released by the South African Institute of Chartered Accountants (SAICA) reflect a 58% pass rate, up from last year's 54%.
Department of Accounting head Professor Mike Wormald said: "A significant highlight of this year's results is the increase in the successes of black African first-time candidates. From 204 passes in 2008, 258 African candidates passed in 2009, a dramatic 26% increase."
He added that the number of coloured candidates had increased from 64 to 76 in 2009. The national pass rates for black African, coloured and Indian candidates were 45%, 53% and 51% respectively.
Since 2007, UCT's Department of Accounting has concentrated on increasing the number of successful black candidates for the Part 1 Qualifying Examination. Their ambitious target is to double the 2007 numbers by 2012.
---
This work is licensed under a Creative Commons Attribution-NoDerivatives 4.0 International License.
Please view the republishing articles page for more information.
---