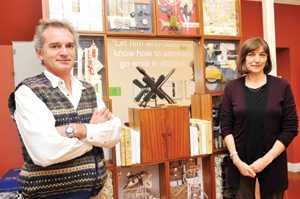 Dr Marilet Sienaert and Dr Piet Barnard against the backdrop of Curiosity, a mixed-media piece by Fritha Langerman and Prof Pippa Skotnes.
Next time you visit UCT's Research and Innovation Department, now headquartered on Rhodes Avenue, Mowbray, be sure to have a look at the art collection housed there.
It's an interesting transaction, this one; the art was procured for the collection from staff at the Michaelis School of Fine Art, as well as from research projects yielded by fine arts graduates.
The material selected reflects an "interdisciplinary web of research".
The collection (formally named The University of Cape Town Research and Innovation Collection) was curated in 2008 by senior lecturer Fritha Langerman, and Professor Pippa Skotnes, director of the Centre for Curating the Archive at Michaelis.
"This collection was assembled with the intention of profiling some of the work and projects of research artists at the school as well as the work of some of the schools' graduates," said Skotnes.
You'll recognise names like Professors Malcolm Payne, Gavin Younge and Bruce Arnott, Associate Professor Stephen Inggs (director of the school), and graduates such as David Brown and Thembinkosi Goniwe.
The newly renovated building, with its pristine white interior, provided the perfect backdrop for the collection.
"Work was chosen with specific spaces in mind, and serialised imagery or patterned hanging of work was preferred in order to reveal not only individual interest and iconographic concerns, but also the possibilities of various media," said Skotnes.
The research aspect is pivotal. Skotnes writes in the collection booklet: "For example, Fritha Langerman's work challenges scientific systems of representation and organisation, Malcolm Payne's interrogates archaeological practices of assigning meaning, and the images from the Bleek, Lloyd and Stow collections suggest the power of images in the service of interpretation and translation."
---
This work is licensed under a Creative Commons Attribution-NoDerivatives 4.0 International License.
Please view the republishing articles page for more information.
---