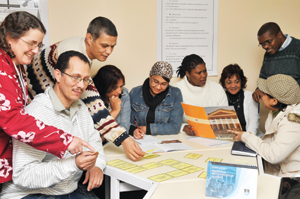 Photographed at a Personal Performance System workshop at Cambria House were (from left) Vera Frith, Shane Ferguson, Shaheed Clark, Karen Bergsma, Karen Hendricks, Phumpla Msutu, Ferryl Pearce, Pazuna Stofile (facilitator) and Joy Erasmus.
Personal Performance System workshops for PASS staff (grades 5 to 12) and their line managers were launched on 14 July and will run until 11 September, with four half-day workshops running on most days during the eight weeks.
To date 22% of staff and line managers have registered for the workshops.
Members of the PPS Training Projects prepared background information in anticipation of the roll out. This information includes a directory outlining generic Key Performance Areas (KPAs) and generic competencies. Staff focus groups were run across campus to assist in compiling the generic document.
The directory will go a long way towards helping staff and line managers compile objectives and personal development plans. However, it's important to note that the directory is not an exhaustive list. Staff can add to this list in their own PPS contracts.
Information from the KPAs and competencies directory has been translated into more user-friendly job descriptions so staff and line managers can better understand the applicability of the directory within the UCT context.
As more and more of the UCT community begins using the directory, it is anticipated that it will become more comprehensive over time.
Training consultants from Peter J Morris Human Resources Consulting are also writing up 52 generic job descriptions. These job descriptions will form the framework for jobs across the university.
Marketing manager (Communication and Marketing Department) Murray Steyn said the PPS workshop had been very helpful.
"Not only did I get an opportunity to clarify some concerns of my own, but I was also able to learn from the other participants."
Staff and line managers can register online for the workshops. Please use the online registration form.
---
This work is licensed under a Creative Commons Attribution-NoDerivatives 4.0 International License.
Please view the republishing articles page for more information.
---