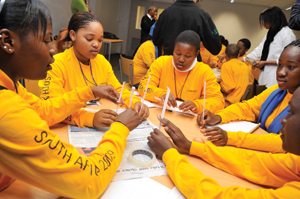 The right choice: Grade 10 learners Emma Mlanga of Cosmocity High School, Olwethu Rwairwai of Masiyile High School, Nosiphiwo Kabane of Harry Gwala High School, Kesle French of West Haven High School, and Aletta Matakanye of Cosmocity High School took part in the LEAD programme at UCT.
UCT's goal to recruit more students from disadvantaged communities received a helping hand when the US-based Leadership Education and Development (LEAD) programme launched its global programme in South Africa.
Learners aged 15 and 16 from diverse areas around Cape Town have been selected to take part in the intensive 10-day programme at the university to attract them to studies and careers in commerce, engineering and science.
Academics and representatives from different companies will advise them on working in different environments.
LEAD is based on a triad model of collaboration between youth, business and universities, and two higher education institutions, UCT and the University of the Witwatersrand, are involved.
At Wits the initiative was launched last month, and at UCT it began on 4 July.
Dr Loveness Kaunda, director of UCT's International Academic Programmes Office (IAPO) explains: "The aim is to help learners chose the programmes they want to study at an early age so that they have a better idea of their career paths."
The programme reinforces UCT's attempts to increase student intake from poor areas, she said. The Admissions Office and the Career Development department assisted with the selection of participants.
"The proof is in the pudding," Kaunda cautioned. "We will have to wait and see how successful this programme is."
The programme is fully funded by LEAD and its sponsors.
About 50 learners, half of them local and the rest from the US, will be on campus for the next two weeks.
LEAD Global's aim is to expose students of colour to global career opportunities such that participants make better informed decisions when choosing a university or a profession.
"South Africa was chosen to host the inaugural class as the country has been a leader in social innovation," said LEAD Consultant Timothy Maurice Webster.
---
This work is licensed under a Creative Commons Attribution-NoDerivatives 4.0 International License.
Please view the republishing articles page for more information.
---