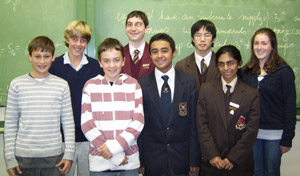 Numbers game: Among the inter-city maths teams from Cape Town are (from left) Nicholas Cotchobos, Keegan Welken, James Nevin, Robert Spencer, Ihsaan Bassier, Nicholas Cheng, Khadija Brey, and Lauren Denny.
Cape Town's top young mathematicians will take part in the Invitational World Youth Mathematics Inter-City Competition, to be held in Durban from 5 to 10 July.
The Inter-City Competition is open to teams from junior high schools (up to grade 9). A total of 59 teams from 19 countries will participate.
Two teams from Cape Town have been invited, chosen from the top grades 8 and 9 participants in UCT's flagship Mathematics Competition, held in April.
The A team is Ihsaan Bassier (Rondebosch Boys' High School), Khadija Brey (Wynberg Girls' High School), Nicholas Cheng (Fairmont High School), and Robert Spencer (Westerford High School).
The B team is Nicholas Cotchobos (Rondebosch Boys' High School), Lauren Denny (Rustenburg Girls' High School), James Nevin (Bergvliet High School), and Keegan Welken (Elkanah House).
The team leader is UCT's Phil Labuschagne and his deputy is Carl Fourie of Elkanah House.
To prepare, the teams are attending a week-long training programme at UCT during this first week of school holidays.
---
This work is licensed under a Creative Commons Attribution-NoDerivatives 4.0 International License.
Please view the republishing articles page for more information.
---