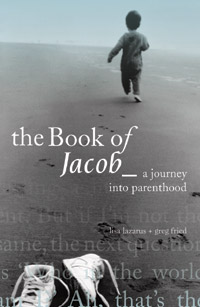 A myriad of manuals and magazine articles would have it that, for first-time parents, life with a newborn has its little ups and downs but is, by and large, a straightforward affair.
Maybe not, Greg Fried and his wife Lisa Lazarus suggest in their new book, The Book of Jacob, in which they chronicle the first year of life with their son Jacob, born in 2006.
"We thought it would be challenging, but we were blown away by how difficult it was," Fried explained. "It was a massive existential shift."
Fried is about to take up a lectureship in philosophy and Lazarus is a psychologist, now doing her Master's in Creative Writing at UCT. The couple wrote the book because they thought that their experience might resonate with others. Both were in their thirties when Jacob was born.
"The most difficult part was probably the relentless and irrational demands of a newborn, coupled with sleep deprivation."
They penned alternate chapters - Fried with his background in philosophy, Lazarus with her training and experience in psychology. Fried said having a baby is a very "public" experience.
"It's not just about our relationship with the baby, but also with family and strangers.
"Your place in the world changes. You're a new person, a new couple, a new family. It's sometimes blissful, and often immensely difficult."
To allow Jacob some sense of privacy, the couple plan no sequel.
The book will be launched on 10 June at the Book Lounge, 71 Roaland Street in Cape Town. Entrance is free and those interested should email the lounge by 4 June on or call 021 462 2425.
---
This work is licensed under a Creative Commons Attribution-NoDerivatives 4.0 International License.
Please view the republishing articles page for more information.
---