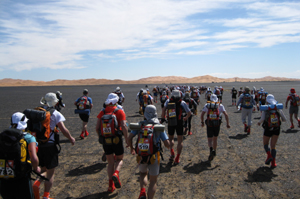 Ready, steady: 807 runners set out, carrying their food, clothing and gear, all but water and shelter, during the Marathon des Sables.
It is reputed to be the toughest footrace in the world, tough because of the terrain, the sand, the heat, and additionally gruelling because one has to be self-sufficient.
Despite this the marathon is oversubscribed, with waiting lists for the next three years.
In a bitingly cold wind, we set off on the Day 1 stage of 33km, and within 3km we were in the towering Saharan dunes. The night was cold and windy with no protection from the Berber tents.
Day 2, a 36km circular route, did not cross mountainous dunes, but even tougher terrain: vast stretches of rolling sand dunes and apparently flat plains of gravel that turned out to be like dry meringue with each foot crushing through the crust. This sand and soft running was enormously energy-sapping.
Day 3 and 4, the long stage to make up for the shortened event, was made the longest single stage in the history of the MdS, with a distance of 91km. A generous cut-off allowed the slower participants to stretch this stage into Day 4, which was a rest day for the faster competitors. This leg had much variation in terrain: dunes, plains, mud and hills, but also a strong, dehydrating headwind for 50km, with heat and dust-storms.
The next 40km was my favourite section: a climb up a gorge with magnificent vistas just before sunset, and then dunes and the vast Saharan plains strewn with rocks, all made magical by moonlight, and a course marked by luminescent sticks. I had a good day, finishing in 13.5 hrs and improving my daily position to 77th.
The final stage, Day 5, was a classic standard marathon but with more hills, mountains and even a river crossing. From the last flat-topped mountain, the finishing line could be seen 4km away. The finish brought jubilation and the intense satisfaction of achievement.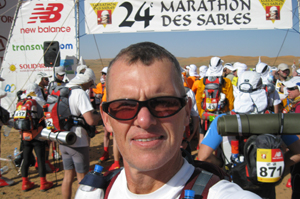 Cardiologist Prof 'AO' Okreglicki, one of 770 runners who completed the five-day, 202-km Marathon des Sables in the Sahara desert.
This MdS is much more than just the run. It is a rite of passage, a test of one's preparation, mind and endurance, all with the magic and 'romance' of the Sahara.
The event was won, for the second time, by Moroccan Mohamad Ahansal, in 16hrs 27min.
For me this was a 'life's bookmarking' experience, fulfilling my goal plus achieving awareness for the Prevent Arrhythmic Cardiac Events organisation for which I ran.
Would I do it again?
I would love to.
---
This work is licensed under a Creative Commons Attribution-NoDerivatives 4.0 International License.
Please view the republishing articles page for more information.
---