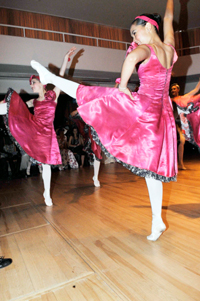 As a group of young ballet dancers pirouetted during celebrations to mark the 75th birthday of the UCT School of Dance, Jasmine Honoré watched with interest.
Having been at the school since its inception, first as a student and later as a teacher, Honoré was remembering how music and dance had helped to bridge the divides in society - and how they still do.
"I wish for white people to learn the dance of African people, and African people to learn the dance of Indian people, and so on," she said at the launch of the school's anniversary celebrations on 20 March.
"Dance is a wonderful way to learn about other people's culture. Nobody minded when I went to see other cultures dance because they knew that I was honouring their tradition."
Honoré, who introduced African dance to the school, recalled how she and her classmates from a Rondebosch dance studio had followed Dr Dulcie Howes.
Howes founded the UCT Ballet School after being invited to do so by the South African College of Music in 1934.
"I was 12 years old at the time and doing piano and ballet," said Honoré.
Howes was such a good dance teacher that all her students at the studio followed her.
Honoré continued to study and obtained a diploma in ballet. She then went overseas and returned to teach dance at the school, where she noticed enormous growth in terms of student, staff and ability.
Her sentiments were echoed by Mary Suckling, one of the first teachers at the school, who said she was "thrilled" to see big developments in teachers and students, not only in terms of numbers but also in terms of quality of education.
Gerald Samuel, director of the school, told the guests that, by any account, Howes must have been, a formidable woman to have won so many battles in her quest to advance the art of dance in Cape Town and South Africa.
"Seventy-five years of our founding as an institution is an achievement of which all who have invested in this vision can be extremely proud," he said.
"I, for one, want us to parade our success not only down Adderley Street or the steps of Jameson Hall, but onto the main stages and the alternative performance spaces as we disinfect the city of segregation and discrimination through our dance".
Samuel said several events are in the pipeline to celebrate the milestone, including performances, public seminars, master classes, and workshops "that will draw dance lovers of all ages to their alma mater".
Among these are a programme of signature repertoire works in African dance, contemporary dance and classical ballet on 23 April, a photo exhibition curated by Dr Eduard Greyling, a winter school, and a reunion celebration at the end of the year.
---
This work is licensed under a Creative Commons Attribution-NoDerivatives 4.0 International License.
Please view the republishing articles page for more information.
---