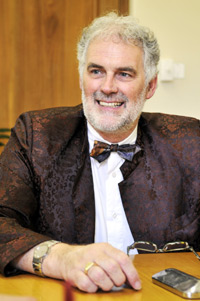 "The school has values that are mine" - Prof Walter Baets, incoming director of the Graduate School of Business.
Walter Baets, Professor in Complexity, Knowledge and Innovation at Euromed Marseille, Ecole de Management, in France, will head the Graduate School of Business from 1 July, pending the allocation of a work permit.
He succeeds Professor Frank Horwitz, who has been appointed director of the Cranfield School of Management in the UK.
In the interim, the acting director of the GSB is Associate Professor Tom Ryan.
Belgian-born Baets is associate dean for research and social responsibility and MBA director at Ecole de Management, a top-ranked European Quality Improvement System-accredited business school.
While director of the school's graduate programmes (2003-2006), he designed and implemented an innovative pedagogical approach that translated a more holistic view on management into course design.
With 1 600 students and an operating budget of €7 million, the school catapulted into the country's top 10 business schools.
Asked what had drawn him to the southern tip of Africa, Baets said he'd been excited to find a business school with values that mirrored his own, and one that focused on systemic practices and action learning. "I've found the school I wanted to create! It exists, a new kind of business school based on the paradigm of emergent economies. It's a precious gift."
South Africa is "a remarkable country with an amazing journey", he said.
"If we're talking uncertainty and complexity, there's lots of experience in this country. There's also more to be learnt from an emerging economy. There's more life and potential than in the old economies of Europe and North America."
After completing his MSc in operations research and econometrics at the University of Antwerp, Baets obtained his PhD in industrial and business studies at Warwick Business School in the UK.
The multilingual Baets (he speaks Dutch, French, English and some German and Spanish) is the author of numerous journal articles and more than 10 books.
Hot off the press is Rethinking Growth: Social Intrapreneurship for Sustainable Growth, co-written with his wife, Erna Oldenboom. Other titles include Organisational Learning and Knowledge Technologies in a Dynamic Environment, and Complexity, Organisation and Learning: The quantum interpretation of business.
In 1997 Baets won the Award for Excellence from MCB publishers for his paper The Learning Organisation. In 2000 he netted the Best Teacher Award for the course Complexity and Knowledge while Professor of Information and Communication Technology at Nyenrode University, a top Dutch business school.
Off-duty he practises Ayurvedic massage (Ayurveda is an ancient Indian healing system that addresses the spiritual, emotional, mental and physical processes of the human experience) and has a private pilot's licence.
He has three children, one of whom is the current Miss Netherlands.
---
This work is licensed under a Creative Commons Attribution-NoDerivatives 4.0 International License.
Please view the republishing articles page for more information.
---