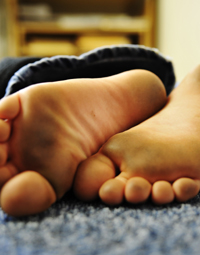 By not extending the Child Support Grant (CSG), Minister of Finance Trevor Manuel had failed poor children and dishonoured the President's promise, a communiqué from UCT's Child Institute has said.
"The extension for children up to their 15th birthday was announced by him [Manuel] in February 2008 and implemented on 1 January 2009 and is therefore not news. The 2009/10 budget includes nothing new on the CSG. This is despite the President's commitment in his State of the Nation Address to progressively extend the CSG to 18."
On 5 February 2009, the Children's Institute welcomed the President's intention in his State of the Nation Address to extend the Child Support Grant to children under 18 years of age.
"This is the first time the President had announced this commitment, and we expected the Minister of Finance to fulfil this promise by first extending the grant to children up to their 16th birthday this year, and then to children up to 18 over a two-year period."
The communiqué continued: "We are disappointed that the Minister of Finance has not committed to any further extensions of the Child Support Grant. His budget speech contradicts the President's State of the Nation Address."
The communiqué said the 2. 4 million poor children affected are predominately black children who live mainly in impoverished rural communities or informal settlements.
"Their caregivers are mainly young women who are also the group most affected by the HIV pandemic. Without the financial support of the CSG these children's chances of completing their education is reduced."
---
This work is licensed under a Creative Commons Attribution-NoDerivatives 4.0 International License.
Please view the republishing articles page for more information.
---