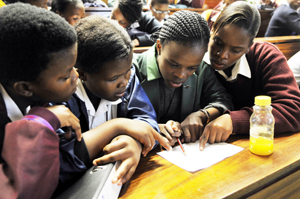 Four matheteers: Learners Khuliswa Tyesi, Sbongile Gama, Amanda Tapana, and Nawlunga Poswa tackle a problem at the SHAWCO classes.
SHAWCO, aka the Students' Health and Welfare Centres Organisation, has launched a new project to provide extra maths and science lessons to some 200 grade 12 learners.
Every Saturday morning, SHAWCO busses the students in to UCT for extra lessons, as well as career and life skills guidance. SHAWCO directory Varkey George explains that students split into groups and the programme will commence with remedial teaching. Classes are given on a rotation system between the arts, maths and physics blocks.
The classes are run with a different programme every Saturday, explains George. One started off with an interactive workshop, for example.
The programme will continue through to the students' final exams at the end of the year.
It is hoped that exposure to UCT will encourage them to aspire to better marks and further studies.
"What better way for an institution of higher learning to ensure that poor children from our townships are given an opportunity to prepare in advance to go to our University?" says George.
The programme was successfully piloted in Khayelitsha and Nyanga in 2008, so much so that four students on the programme last year were awarded bursaries, and are now studying at UCT. SHAWCO is administering the bursaries for the four, and providing mentorship through staff and volunteers.
The project is funded by Bombardier Transportation, which has pledged funding for three years, and Murray and Roberts.
---
This work is licensed under a Creative Commons Attribution-NoDerivatives 4.0 International License.
Please view the republishing articles page for more information.
---