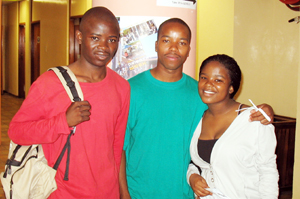 All signed up: Hlayisi Baloyi, who'd all but given up on studying this year, with two fellow students during UCT's registration week.
A top Limpopo learner with no identification document or birth certificate, and with a Mintek bursary signed and sealed, Hlayisi Baloyi of the Vhembe District, Limpopo, was a happy young man this week.
He was fortunate enough to be one of the few 2008 matriculants registered to study chemical engineering at UCT this year. Baloyi had almost resigned himself to staying at home, despite achieving 100% in mathematics and 99% in physical science in matric last year.
The reason? Every university he applied to turned him down because he did not have an ID or a birth certificate.
"My dreams were almost crushed," said Baloyi. "I worked so hard for my marks, and was so disappointed that I had to wait until 2010 to start studying."
But his fortunes changed dramatically after Mintek, a parastatal organisation that conducts research in to minerals and metallurgy, heard about his plight. "There was no way we were going to let Hlayisi become a sad statistic and slip through the cracks, so we made a determined effort to get him into university this year, come what may," said Shokie Bopape, Mintek's general manager for corporate services.
South Africa desperately needs skilled people with science and engineering qualifications to drive our economy, said Bopape. Mintek duly granted Baloyi a Mintek bursary of R71 000 after UCT agreed to register him, even though registrations had officially closed.
Baloyi flew down to Cape Town after Mintek approached Kulula, and asked the airline to waive their requirement for him to have proof of identity for travel. "They were so understanding and supportive, and not only allowed Hlayisi to travel without ID, but also sponsored his flight," added Bopape.
Mintek also managed the nigh-impossible after one of its staff members secured temporary accommodation for him in Claremont during February. "The university residences were all full, and private accommodation for students close to the university is snapped up the moment it becomes available, so we were indeed fortunate."
Baloyi has nothing but praise for everyone that helped him.
"I just want to thank everyone at Mintek, UCT and Kulula for coming to my rescue. My dreams have been re-ignited, and I will make sure I will study hard this year to prove to everyone that their effort was worth it."
---
This work is licensed under a Creative Commons Attribution-NoDerivatives 4.0 International License.
Please view the republishing articles page for more information.
---