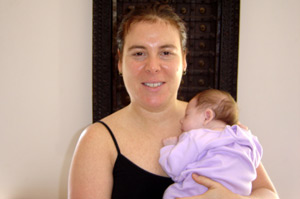 Baby doctor: Suki Goodman and little Amy Ray Distiller.
Producing a doctoral thesis is one thing, but to also produce a baby in a few months is quite another. There must be something in the air in the Section of Organisational Psychology at the Faculty of Commerce, because they seem to be in the business of producing successful women academics ahead of schedule.
Creator of both a thesis and a baby, virtually simultaneously, is senior lecturer Suki Goodman. The baby took her less than nine months to produce and the doctoral thesis was conceived and delivered within a gestation period of only two and a half years.
Little Amy Ray Distiller arrived on 4 September, about three weeks ahead of schedule, throwing a spoke in work plans. Fortunately her team ensured that everything in the section ran smoothly.
"It is unbelievable how supportive my colleagues have been to me, says Goodman. "The collegial support from the Department of Management Studies has been phenomenal - they took over my postgraduate supervision, course co-ordination and teaching."
She paid tribute to her supervisor, the head of the section, Professor Joha Louw-Potgieter, who had the foresight to encourage her to deliver the thesis before the baby.
Goodman registered for her doctorate, titled
An Evaluation of a Social Context Training Programme for South African Magistrates
, in 2006, and worked solidly, without the benefit of a sabbatical.
"It is a great testament to my supervisor, Joha, who told me long before I fell pregnant that she could hear 'the pitter-patter of little feet'. Joha had the wisdom to push me and I am so grateful for getting her supervision. My doctorate is as much about my supervisor as it is about me."
Goodman's hard work has paid off, and she was recently promoted to senior lecturer. She is now spending her maternity leave putting the final touches to her thesis, as the Doctoral Degree Board has accepted the Committee of Assessors' recommendation that she be awarded her doctorate provided minor changes are made.
Although she is loving being a mother, she is also looking forward to being back in April 2009.
"I love what I do," she says. "I love coming to work every morning - which says a lot about the place where we work."
Said Louw-Potgieter: "Dr Sarah Riordan, another doctoral student who graduated from this section last year, did her thesis on successful women academics. I am very proud to say that in Organisational Psychology we do not just write about it, but we live it!"
---
This work is licensed under a Creative Commons Attribution-NoDerivatives 4.0 International License.
Please view the republishing articles page for more information.
---