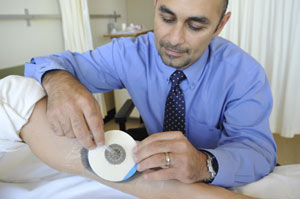 Dressing it up: Dr Nick Kairinos has won an award with the Negative Pressure Wound Therapy, also known as vacuum dressings.
Dr Nick Kairinos, a UCT PhD student and registrar in plastic surgery at Groote Schuur Hospital (GSH), has this year added four more medals to his growing bag of honours.
Just recently he has won the Stratmed Prize for Best Research Paper from the South African Society for Surgery of the Hand, and the Best Scientific Research Paper and also the Best Invention Award, both from the Association of Plastic and Reconstructive Surgeons of Southern Africa. The latter was awarded for his concept on a tissue pressure regulating system to enhance negative pressure wound therapy.
Kairinos was also awarded third prize at the UCT Surgical Research Day.
For Kairinos, a registrar in the Department of Plastic and Reconstructive Surgery, winning has become a habit. He has won prizes every year since 2005 when he started working at GSH, totalling eight national and three local awards.
His current research has resulted in the concept of a new type of vacuum dressing, which regulates its own suction pressure so that wound pressures are always optimal for healing.
As a successful inventor, UCT Research Contracts and IP Services (RCIPS) have filed two provisional patent applications covering Kairinos' inventions. He plays an active role in innovation and is the recipient of both Explorer and Concept Pre-Seed Fund awards, administered by RCIPS, which he is using for the technology development and commercialisation of his inventions.
He said it was "sad" that the public has a misconception of plastic surgery, associating it only with cosmetic surgery like breast enhancement. The other good work done by such specialists is overlooked.
"Among other things, plastic surgeons reconstruct anything that looks or is abnormal, such as defects created by cancer operations, accidents or birth deformities."
Kairinos said his job was rewarding.
"Particularly when I see the joy a reconstructive procedure brings to a patient, making them feel normal again."
---
This work is licensed under a Creative Commons Attribution-NoDerivatives 4.0 International License.
Please view the republishing articles page for more information.
---