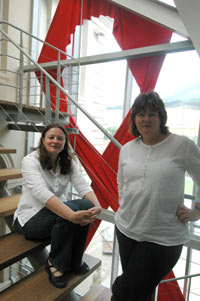 Two South African-developed HIV vaccines have begun clinical testing in the United States. The South African AIDS Vaccine Initiative (SAAVI), which is a lead programme of the Medical Research Council (MRC) supported by the South African government, has announced the start of the phase I safety trial in the US.
The trial, called SAAVI 102/HVTN 073, will be conducted jointly with the HIV Vaccine Trials Network (HVTN) and the US National Institute of Allergy and Infectious Diseases (NIAID), part of the US National Institutes of Health (NIH). It will test two vaccines developed by UCT through joint funding from SAAVI and NIAID, NIH.
The development of these vaccines is the culmination of eight years of research and development by scientists across South Africa and the globe. The vaccine design is based on HIV subtype C, the dominant strain circulating in Southern Africa.
It is the first HIV test vaccine developed in Africa to reach human clinical trials. This phase I trial will start in Boston in the US this week. Testing in South Africa will start in early January 2009. The trial has been approved by the South African Medicines Control Council (MCC) and the Directorate of Biosafety in the Department of Agriculture.
The US arm of the trial will involve 12 participants, while the South African arm, once approved, aims to recruit 36 participants from two sites, one in the Western Cape and another in Gauteng.
The test vaccines, SAAVI MVA-C and SAAVI DNA-C2, have shown promising results in animal testing. The DNA vaccine was wholly developed by South Africans, while the MVA vaccine was designed by the team at UCT and constructed and manufactured in the US.
"We are delighted that this vital project has reached such a critical stage in its development," said Professor Anna-Lise Williamson, leader of the team at UCT's Institute of Infectious Disease and Molecular Medicine.
UCT's Associate Professor Carolyn Williamson (seated in the picture) and Professor Anna-Lise Williamson (standing) are lead scientists on the AIDS vaccine.
---
This work is licensed under a Creative Commons Attribution-NoDerivatives 4.0 International License.
Please view the republishing articles page for more information.
---