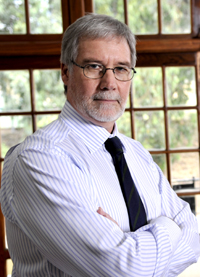 The University of Cape Town is delighted to announce the appointments of two internationally renowned academics, Jo Beall and Danie Visser (left), to executive management positions.
Professor Beall, a world-renowned social scientist currently based at the London School of Economics, and Professor Visser, a top legal expert and an acting UCT Deputy Vice-Chancellor, will take up posts as Deputy Vice-Chancellors in the new year.
"Both professors enjoy tremendous respect from their peers and will assume their posts early in 2009," said UCT Vice-Chancellor, Dr Max Price. "We have no doubt that these outstanding academics and leaders will serve the university with distinction, bringing their particular strengths and talents to UCT's executive team, and giving the institution the benefit of their combined experience and wisdom."
Dr Price added that he joined the UCT community in welcoming the new Deputy Vice-Chancellors and looked forward to sharing a happy and productive working relationship with them.
The Vice-Chancellor said that meetings with the Deputy Vice-Chancellor Designates and with incumbent Deputy Vice-Chancellor Professor Thandabantu Nhlapo would take place shortly to determine the portfolios that will best suit their particular areas of experience. These will be announced in due course.
Speaking from the United Kingdom, where she is Professor of Development Studies at the London School of Economics, Professor Beall said she was delighted to be returning to South Africa to join UCT and to contribute towards implementing its strategic vision.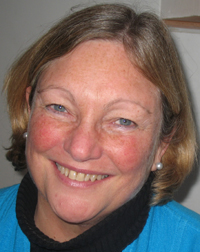 Professor Beall said she was very committed to the university's open governance and ongoing transformation process. "I look forward to contributing towards making UCT an exciting and rewarding environment for all members of the university community," she said.
Dr Price said that UCT would benefit from Professor Beall's extensive experience in setting up partnerships with universities in China, India and Africa - a key element of UCT's plan.
"UCT's record is already a strong one, and I am keen to put my energy behind advancing its reputation and status as one of the foremost universities in Africa and as a leading research and teaching university internationally," Beall said. "I feel enormously privileged to have been invited to serve as Deputy Vice-Chancellor, and during my term will work to make UCT an institution of choice for students and academics everywhere - particularly for scholars from the African continent."
Professor Visser, who is currently acting deputy vice-chancellor responsible for research, said he was deeply honoured by the appointment and would continue to ensure that UCT not only exposes students to the excitement of new knowledge, but fosters the realisation that they also have the power to contribute to the advancement of knowledge.
"I would like UCT to be known for giving talented but disadvantaged individuals a chance. I see the university stepping up its efforts by using its excellence to solve problems that confront our city, our country and our region.
"I would also like UCT to be a highly desirable academic destination for people from all over the world, but especially for students and academics from our own continent. These are the things that I will work for during my term as DVC. I look forward to it with great anticipation."
The announcement of the two posts follows a comprehensive and transparent selection process. "The recruitment net was spread far and wide, and resulted in an applicant pool of remarkable talent and diversity. In the first short list of over 20 accomplished applicants who applied, well over half were international candidates," said Dr Price.
The vacant position of the third Deputy Vice-Chancellor was offered to Professor Jonathan Jansen. Professor Jansen decided not to accept the position due to a change in personal circumstances. The selection committee will reconvene to decide the way forward in terms of this third vacancy.
As per protocol, UCT's Institutional Forum verified that due process was followed during the selection process and the UCT Senate gave its overwhelming support to the appointments. The appointments have since been ratified by the UCT Council.
---
This work is licensed under a Creative Commons Attribution-NoDerivatives 4.0 International License.
Please view the republishing articles page for more information.
---