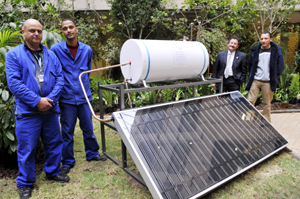 Hands on: The solar water heater on display was manufactured by Winston Inglis and Riyaad Dollie (first and second from left), photographed with John Critien and Stanley Smith of Properties & Services.
How many trees would UCT have to plant to counter the carbon emissions from fuel burned to produce hot water for its thousands of residence students each day?
Probably in the region of around 20 per student, but this could be reduced ten-fold by combining solar water heating with heat pumps, said Associate Professor Harro von Blottnitz (Environmental & Process Systems Engineering) at an African Universities Day celebration in the Kramer Building last week.
UCT responded to the theme of sustainable development in higher education, set by the African Association of Universities for the 2008 event.
South Africa presently emits 450 million tons of carbon dioxide each year and this will increase rapidly if no action is taken.
While the United Nations Environmental Programme had planted one billion trees in 2007, trees could never be enough to offset carbon emissions, Von Blottnitz said.
Nonetheless, the Kramer Quad was transformed into a green lung, exhibiting a solar water heater designed and built by Properties & Services staff Winston Inglis and Riyaad Dollie, supervised by John Peters.
It will be installed at Forest Hill Block C and interconnected to the existing cylinder. It is expected to yield electricity savings of between 40% and 50%.
At Glenara, the Vice-Chancellor's residence, three solar water heaters have been included in plans to revamp the building.
UCT's Green Campus Initiative, an action-based group that works to make UCT carbon-neutral, plans to join other universities in launching The Green Challenge. This will encourage campuses to go green, with an intended prize of R1 million for the best effort.
A conservative estimate says UCT will recycle over 1 000 tons of waste next year.
---
This work is licensed under a Creative Commons Attribution-NoDerivatives 4.0 International License.
Please view the republishing articles page for more information.
---