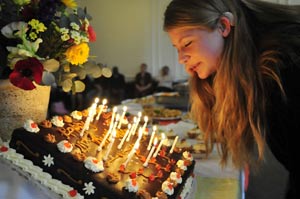 Take the cake: Jody Bell, daughter of disability activist Diane Bell, blows out the 20 candles to mark the Disability Services' 20th anniversary.
Disability Services at UCT crowned two decades of sterling service to disabled members of the UCT community when they celebrated their 20th anniversary on 8 October.
Festivities in the Richard Luyt Room kicked off with the choral contributions of the Friends of the Blind Choir. Displays and photographs outlined important milestones, such as the introduction of the Disabled Bus, part of the Jammie Shuttle fleet, in 2005, and the construction of the disabled hoist in Jameson Hall in 2002.
Manager of the Disability Service, Reinette Popplestone, recalled the unit's early days, starting with its founder, Kate Jagoe, who started the Disability Unit on a shoestring in 1988.
The unit was originally housed in the Office of the Vice-Chancellor with dual reporting line to the dean of the Social Sciences Faculty. Jagoe's hope that the unit would encompass a research and teaching component was dashed when responsibility for the unit was transferred to the employment equity manager in HR.
It finally came to rest in what was then the Student Development and Services Department.
During Jagoe's tenure Popplestone started the Blind Students' Reading Programme, armed with two portable National cassette recorders and a box of blank tapes.
When space was finally found for the programme on campus they canvassed volunteers from the student community. In 1996 Jagoe retired on account of her worsening health, and for a while Fadila Lagardien acted in her stead. In 1998 Mike Watermeyer was appointed as head.
"Under Mike's leadership the DU expanded enormously. He established a fully accessible computer lab for visually impaired and otherwise print handicapped students, and he increased the staff complement."
Highlights since then include the extension of the bus service to students with visual impairment (it was originally only intended for wheel chair users), a major upgrade both of the space and the facilities of the computer lab and text conversion facility, establishment of a dayhouse for students with disabilities, and the launch of a Disabled Students Movement.
---
This work is licensed under a Creative Commons Attribution-NoDerivatives 4.0 International License.
Please view the republishing articles page for more information.
---