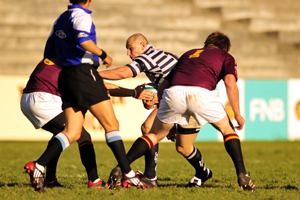 Isolated: Kevin Foote is surrounded by Maties in UCT's final game for the season, a narrow 31-38 defeat to Maties.
Going into their last game of the season, UCT had an ideal opportunity to upset the University of Stellenbosch's rugby cart. Win the game, and, for the first time in, like donkey's years, Maties would not be crowned Western Province club champions.
Alas, typical of the season, a late try - following a memorable secondhalf rally by UCT - saw the side lose the match to their arch-nemesis by 31-38. Even with that defeat, UCT finished in a respectable fourth place on the Super League, albeit some way off the leaders.
Thinking back, coach John Dobson thinks the trend of conceding late points may have started with those heartbreaking closing moments in the final of the Varsity Cup.
"It took a bit of our mojo," says Dobson.
Captain JJ Gagiano agrees. "Mentally, it took a lot out of us," he says. "A lot of guys are happy the season's over."
Following the Varsity Cup and its television broadcasts, huge crowds and handsome purse, the Super League was a bit of an anticlimax, thinks Dobson. Keeping everyone motivated took some work.
But there's plenty to be pleased about. A group of youngsters playing amateur rugby finished second in a major new competition, and then more than stood their ground against more seasoned rivals from more professional set-ups.
Also, the team was reasonably stable throughout the year, major injuries were few, and coaches Dobson and Robbie Fleck were able to build a solid squad with some depth.
That's going to count in their favour come 2009, reasons Dobson. The team has high expectations for the Varsity Cup, but will also want to keep going once the Super League starts. And maybe attract some more talent.
"Our vision still is to make UCT the club of choice for any young players who want to play thinking rugby," says Dobson.
---
This work is licensed under a Creative Commons Attribution-NoDerivatives 4.0 International License.
Please view the republishing articles page for more information.
---