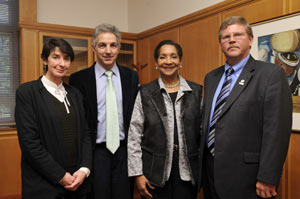 Capacity strengthened: At the signing were (from left) Dr Ailsa Holloway, director of UCT's Disaster Mitigation for Sustainable Livelihood Programme, Vice-Chancellor Dr Max Price, Carleene Dei-Mission, director of USAID Southern Africa, and Harlan Hal, principal region advisor for USAID Southern Africa.
To meet increasing demands for skilled human resources to reduce and manage disaster risks in Africa, UCT and USAID have signed a US$2.9 million (R22.7million) agreement that will strengthen the capacity of 10 African universities in disaster-related scholarship and practice over the next three years.
This initiative, Periperi U (Partners enhancing resilience for people exposed to risks - focus on universities), will be implemented by UCT's Disaster Mitigation for Sustainable Livelihoods Programme (DiMP).
It is the first continental project of its kind to be funded by USAID's Office of Foreign Disaster Assistance. It will support institutional development related to disaster risk reduction capacity development, the roll-out of multi-disciplinary graduate programmes, and the provision of professional short courses across anglophonic, francophonic and lusophonic universities.
"The project is urgently needed to reduce Africa's disaster risk profile - one which is significantly shaped by current climate variability and which is expected to worsen under future climate change projections," said DiMP's Dr Ailsa Holloway.
Periperi U also recognises the impact of rapid urbanisation across the continent, often accompanied by new urban risk management challenges, as rapidly growing cities and towns outpace the capacity of poorly resourced local authorities to provide and maintain essential services. With its scholarship focused on hydrometeorological (severe weather and drought) and urban risks, Periperi U aims to train up to 600 students and practitioners in ten countries by 2011.
The project will conduct applied research in various risk contexts, including seismic vulnerability in Algeria and public health risks among internally displaced people in Uganda.
---
This work is licensed under a Creative Commons Attribution-NoDerivatives 4.0 International License.
Please view the republishing articles page for more information.
---