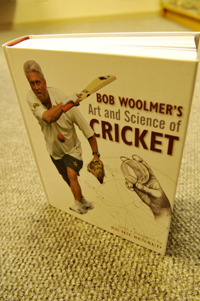 If his life depended on a batsman, Discovery Health Chair of Exercise and Sports Science Professor Tim Noakes would choose tennis maestro Rafael Nadal over Steve Waugh.
It illustrates his point about re-examining the way batting is coached.
Watch Nadal and you'll see how he rotates his body to strike the ball, precisely and powerfully, at a distance from his body. In cricketing jargon, he's freeing his arms.
New studies at UCT/MRC Unit for Exercise Science and Sports Medicine have shown that the world's great batsmen, Sir Donald Bradman, Graeme Pollock and Brian Lara, all did the same.
They all lifted the bat in a continuous, rotary action and struck the ball like baseball or tennis players.
It's an interesting point brought up on the eve of the launch of 'the definitive' cricketing guide, Bob Woolmer's Art and Science of Cricket, which Noakes penned with the late former Proteas coach and with UCT scholar Dr Helen Moffett, who acted as the 'glue' binding the perspectives of cricketer and sports scientist.
The launch, attended by Woolmer's family, was an emotional one for many.
Though it was begun in 1996, Noakes and Moffett were driven to complete the book after Woolmer's untimely death at last year's Cricket World Cup, in order to capture his prodigious knowledge for generations to come.
Woolmer, said Noakes, was always interested in what technology and science had to offer his understanding and teaching of the game.
There are other cricketing guides, such as Sir Donald Bradman's Art of Cricket, which Noakes won for "general good work" in standard eight at Bishops in 1964.
The irony is not lost on him. Noakes recalls how the book frustrated him because it never answered the 'whys' about technique.
Woolmer, Noakes and Moffett worked tirelessly to make this guide a happy marriage of the 'how' and 'why'.
"We must start intellectualising the game, as the Australians have, or we won't be successful," Noakes noted.
The 700-page, densely illustrated guide is also touted as a thoroughly good read. Edited by UCT alumnus and author Tom Eaton, it covers history, mental skills and, tantalisingly, the future of the game.
---
This work is licensed under a Creative Commons Attribution-NoDerivatives 4.0 International License.
Please view the republishing articles page for more information.
---