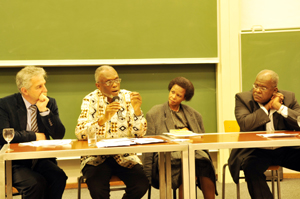 Actively listening: Ghanaian academic Prof Akilagpa Sawyerr responds to questions at the Vice-Chancellor's Symposium. He is flanked by VC Dr Max Price, left, Dr Mamphela Ramphele and Prof Jonathan Jansen.
South African universities should learn from the travails of the post-independence experiences of Africa, and listen to the continent, Ghanaian Professor Akilagpa Sawyerr said at the Vice-Chancellor's Symposium at UCT on 20 August.
Sawyerr, a former secretary of the Association of African Universities, and former Vice-Chancellor and Professor of Law at the University of Ghana, was one of three speakers.
Others were Dr Mamphela Ramphele, former vice-chancellor of UCT, and Professor Jonathan Jansen, Honorary Professor of Education at the University of Witwatersrand.
The event was part of the VC's installation programme and was triggered by, among other challenges, the threat to academic freedom and the need for universities to "marshal our resources", as Vice-Chancellor Dr Max Price put it.
Sawyerr suggested that South Africa should learn from the rest of the continent and outlined the "ups and downs" of the University of Africa in his home country.
This university had moved from being a world-class institution that produced high-calibre graduates with "enough leftovers for the brain-drain", to years of crisis that had led to doubts about the economic viability of higher education.
"Universities failed to adapt adequately to the changes, and this resulted in serious problems like understaffing, overcrowding and exodus," Sawyerr said.
Things had changed but there were still challenges around access, equity, quality of education, and globalisation.
Sawyerr advised South African universities to "actively listen" to the continent and foster meaningful regional activities.
Ramphele said the "thriving" years inspired by the Madiba Magic were gone and that reality had begun to dawn on the country.
There was a need to identify vulnerabilities, point to fragilities, and learn from the successes of the past 14 years.
Ramphele described as "scandalous" the absence of centres of excellence in Africa, which prompted students to go abroad for top programmes in African Studies.
"We should hang our heads in shame."
Ramphele said the morality of power was still the same - control and command - and it was the challenge of universities to redefine power and power relationships.
Jansen described the role of the university by likening it to a city upon a hill, with the eyes of all people on it.
"Imagine a university where the community from an informal settlement can make the same ownership and participation claims for their children as those of well-heeled alumni of the upper-class schools for whom that university has become a birthright," he said.
Turning to Price, Jansen said: "Now, imagine a Vice-Chancellor who imagines, whose life demonstrates that ideas matter - and people more. Then you have the makings of a city on a hill whose light shines brightly through Newlands and Nyanga, Bishopscourt and Bishop Lavis, and onward through the rest of Africa and the entire world."
---
This work is licensed under a Creative Commons Attribution-NoDerivatives 4.0 International License.
Please view the republishing articles page for more information.
---