UCT's new Vice-Chancellor Dr Max Price and outgoing Deputy Vice-Chancellor Professor Martin Hall addressed staff and students at the UCT Stop Stigma Rally, organised by HIV/AIDS Co-ordination - UCT (HAICU) on 21 August.
The rally aims to demonstrate a rejection of stigma and discrimination around HIV/AIDS on campus and to promote an environment in which people living with HIV can feel they can publicly disclose their status. Many HIV-positive people feel they can't publically disclose their status for fear of social ostracisation, or even persecution. As a result of the stigma of HIV/AIDS, many resist getting themselves tested for HIV in fear of being ostracised by their communities.
In-depth interviews were conducted with seven volunteer female UCT HIV positive students, explains HAICU director, Cal Volks. "The students spoke of deciding not to disclose their HIV status after hearing stigmatising views from students on campus. Some participants had not disclosed to even their close friends at UCT, despite describing a longing to do so and the burden of keeping a secret. This reflects the development of a complex identity for the individual HIV-positive students, in an environment rich in discourses around equality, yet experienced as judgmental."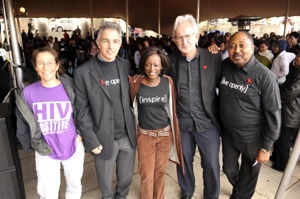 Supporters: (Top) Students and staff at the rally. (Left) Prof Nicoli Nattrass, award-winning author of Mortal Combat: AIDS Denialism and the Struggle for Antiretrovirals in South Africa and The Moral Economy of AIDS in South Africa; Vice-Chancellor Dr Max Price; MC Hlubi Mboya, who plays the HIV-positive Nandipa in soapie Isidingo; DVC Professor Martin Hall, who oversees UCT's HIV/AIDS initiatives; and DVC Prof Thandabantu Nhlapo, who oversees student matters.
The event was kicked off with a "surprise freeze" on Jammie Plaza, in which first-year drama students froze in their tracks to symbolise the stopping of stigma. Hlubi Mboya, who plays the HIV-positive Nandipa in local soapie Isidingo, MC'd the event, and music was provided by double SAMA winner Tasha Baxter and her band. A photographic exhibition by Paul Weinberg of the UCT community's fight against stigma was also on display.
In his address, Price said, "Stigma is everyone's problem, because if you develop an attitude that makes people feel that they are at risk when telling you that they are HIV-positive, then you are at risk." He noted that HIV should be perceived as any other chronic condition like diabetes or hypertension, and urged the audience to fight stigma by getting tested.
"Ignorance and fear, the root causes of stigma, have resulted in 'othering' and denigration, or targeting of difference," said Hall. "As we embrace diversity, so may we stop stigma and learn valuable lessons around stopping all forms of stigma and discrimination."
---
This work is licensed under a Creative Commons Attribution-NoDerivatives 4.0 International License.
Please view the republishing articles page for more information.
---