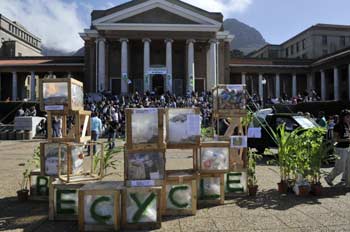 Green living: Staff and students got tips on sustainable living at the Sustainable Living Expo in Jameson Hall on Monday
UCT kick-started its Green Week campaign on Monday with a sustainable living expo in Jameson Hall to create awareness about the environment and sustainable practices. A number of internal and external environment initiatives exhibited their programmes and encouraged people to participate.
One of them was the Ridelink Initiative, a UCT web-based programme that helps staff and students to get into carpools.
"That will help them to save petrol, parking, congestion and, more importantly, the planet," explains Susan Botha, one of the staff at the Botany Department who started the Green Campus Initiative (GCI).
"It is ridiculous for people to drive individually in single cars while going to the same place at the same time," added student Maya Goldman.
The GCI, a 400-strong member organisation comprising UCT students and staff, was started last year "to take UCT to carbon neutral". Botha says this means that the university should not release carbon dioxide, which contributes to climate change.
During the expo, UCT implemented the recycling system, where people were encouraged to use different bins to dispose of cans, plastics, papers and other waste. "If you take a tin and recycle it, you will save 90% of energy," Botha revealed.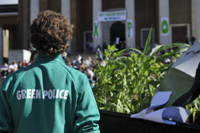 The Residence Recycling Initiative, which was started at Smuts and Fuller residences early this year, will be extended to others residences because of its success.
There were also green police, who "fined" people for driving to campus, and gave information about recycling, and people were encouraged to calculate their carbon footprint.
---
This work is licensed under a Creative Commons Attribution-NoDerivatives 4.0 International License.
Please view the republishing articles page for more information.
---