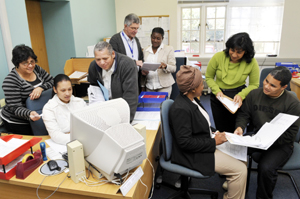 Perfection: The payroll team that managed an error-free payroll check in July included (group left) Rowina Nefdt, Yolanda Amsterdam and Noel Idas; (back) Gavin Redfern and Grace Tumi; and (right) Ruth Simbayi, Vivienne Blanchard and Gavin Matthee. Some of the Bremner team were not available for the photo, while the team at the Faculties of Health Sciences and Humanities also played their part in the achievement.
Preparing for the July payrun, the Payroll Office proved right the old adage that practice sometimes makes perfect.
Every month, as part of their checks and balances - and as they've done for as long as they can remember - the office runs a number of simulated payruns to weed out any errors before the final payrun. These glitches could be anything from inactive staff members still being billed for parking discs to CoE discrepancies (the numbers don't tally) to missing details.
And, without fail, a couple of these pop up in every dry run.
Except on 18 July at 03h00, when, for the first time that anyone can recall, the final run got a clean bill of health. Not one error.
Previously, the office would shut down the system - meaning no late payroll entries, for example - for as long as two days to clean up the errors and finalise the payrun. This time, the system was locked for just two hours, and then only as a precaution. (After which the office snuck in two late payment requests.)
It was a historic moment, and had to be commemorated. "We had cake," says payroll accountant Gavin Redfern.
But every sweet bite has been hard-earned, explains Redfern who, along with payroll officers Erica Moodie and Noel Idas, pick up on and clean up any errors.
Over the past year especially, the office had set up a number of checks to cut back on such hiccups. These included the introduction of a Systems Support Office in 2007 to oversee the process, from data capturing to the moment that final button is hit to deposit money into bank accounts.
"The whole system is better managed now," says Redfern.
Now that the bar's been set higher, Redfern has set his team a new challenge. They will break out the cake again only if they can pull off 12 months of error-free checks on the trot.
---
This work is licensed under a Creative Commons Attribution-NoDerivatives 4.0 International License.
Please view the republishing articles page for more information.
---