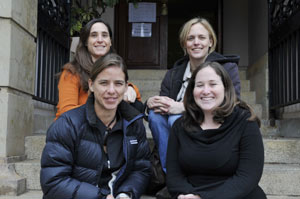 Winners: Students, clockwise from top left, Lara Atkinson, Anja Terorde, Shannon Hampton and Jennifer Veitch won awards at the 13th Southern Africa Marine Science Symposium.
Four UCT students made their mark at the 13th Southern Africa Marine Science Symposium recently, walking off with top awards.
Lara Atkinson, a PhD student in zoology; Anja Terode, who is doing her master's in zoology at the Percy FitzPatrick Institute of African Ornithology; and Jennifer Veitch, a PhD student in physical oceanography, won three of the four Best Student Oral Presentation Awards, while Shannon Hampton, also a PhD student in zoology, took one of the three Best Student Poster Awards.
Atkinson's work was looking at the ecosystem impacts of bottom fishing, which targets groundfish. Terode studied water birds in a small temporarily open/closed estuary in the Eastern Cape and how changes in mouth-opening events effect their population. Veitch is investigating the dynamics of the ecologically and economically important Benguela upwelling system, with particular focus on the disparate northern and southern regimes.
Hampton, on the other hand, presented her honours project from 2004, which looked at whether the invasive alien crab species, Carcinus maenas, was less able to cope with wave exposure than the local crab species, Plagusia chabrus.
Their prizes included books and subscription to marine publication.
---
This work is licensed under a Creative Commons Attribution-NoDerivatives 4.0 International License.
Please view the republishing articles page for more information.
---