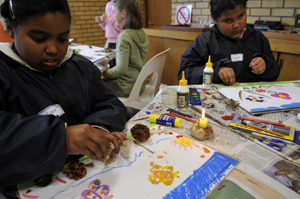 Nature and art: Lisa-Carrie Petersen, left, and Jayde van Niekerk from Bergsig Primary School in Bonteheuwel at 'work' at the eco-art holiday workshop.
There were candles lit on the tables in the Gold Fields Environmental Education Centre in Kirstenbosch - but not for a romantic occasion.
The candles were just some of the tools used by grades-one to -seven pupils, who participated in this year's Eco-Art Holiday Workshops, organised by Sue Nepgen, part-time lecturer in UCT's School of Education.
During the three-day programme, which started on 2 July, Nepgen partnered with the centre, as well as third-year ecology/environmental-science student Catherine Browne and postgraduate education student Kira Koopman, to teach kids about nature through art.
Nature's Beautiful Biodiversity was this year's theme, and learners created individual collages using paper on a durable board, art media, as well as coloured beeswax and dried plant material of many different species.
Nepgen said she wanted the children to express their ideas about diversity in nature.
"The idea is to nurture a positive environmental attitude," explains Nepgen. "While expressing their concepts about biodiversity, they were also connecting to their feelings and attitudes, and were enjoying it."
The kids were also given an introduction to the topic, a guided walk to sections of the garden, and took part in a video-microscope investigation of varied plant forms.
---
This work is licensed under a Creative Commons Attribution-NoDerivatives 4.0 International License.
Please view the republishing articles page for more information.
---