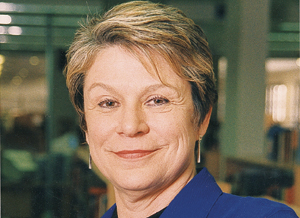 Visionary librarian, Joan Rapp.
Ten years ago, the university Libraries were not as they are today. The old Linear Library was still in place, but was on its last legs. We were groping into the electronic information age.
It was at this point that Joan Rapp joined us as Executive Director after holding a number of senior positions in the United States. She has no fewer than three master's degrees and her MBA gave her vital management skills.
Within a year she had completed a thorough review of the library with strategic and operational plans aligned with the university's wider objectives. The new library building was being planned, and internally a total organisational restructuring was taking place.
The new organisational structure aligned the library with the new faculty structure, provided subject-oriented information teams, introduced a co-ordinated library IT function, and focused on access to information in all its forms. The new physical structure provided a magnificent, functional building, which is the envy of many at home and abroad.
The new virtual structure provided a new online library system, a revolution in access to electronic resources, the wonderful Knowledge Commons, and now the Research Commons.
Joan Rapp has achieved all this and more. She has done this with her own team, to whom we also pay tribute.
---
This work is licensed under a Creative Commons Attribution-NoDerivatives 4.0 International License.
Please view the republishing articles page for more information.
---